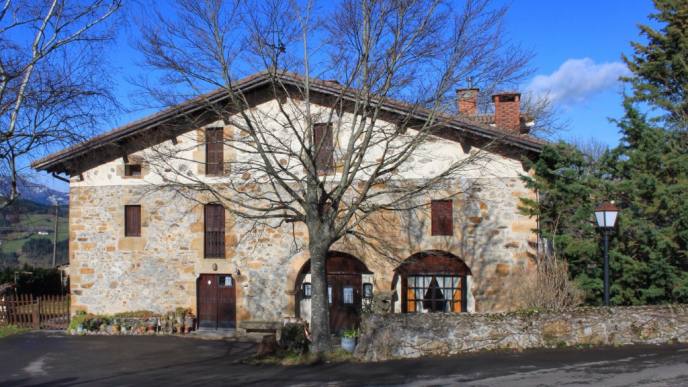 The Caserio
en el País Vasco
La casa rural se ubica en el caserio de Areano, edificio datado en el siglo XVI que conserva el aspecto del auténtico caserio vasco.
Presidido por los imponentes arcos de su entrada, su reciente restauración es un ejemplo de de buen gusto, respeto y conservación de los rasgos de la arquitectura rural vasca. Areano es un lugar mágico, lleno de paz, en el que estamos seguros que te vas a sentir bien, cómodo, como en casa. Es ideal para pasar unos días en familia, para disfrutar con tu pareja y amigos, ó para organizar cursos y reuniones de empresa. Si buscas un lugar para darte una escapada rural en el País Vasco visita la casa rural Areano.
Installations
Facilities designed to make you feel at ease, relax, disconnect and enjoy in the company of those you love the most.
The facilities of the rural house are distributed in two floors: On the first floor there is the main living room, the dining room, the kitchen and the room adapted for people with reduced mobility.
The stairs from the reception lead to the second floor of the building where the rest of the rooms are located, culminating in the Relax Lounge. From the lounge you can access the terrace of the house, with panoramic views of the area.
Rooms
A room, a legend...
There are many legends and traditions that take place in our Alto Deba region, which have often served to fill in the historical gaps that could not be recorded in documents about our distant past.
In Areano we wanted to rescue these legends and give our rooms a historical sense, impregnating them with the magic that these places hide: mountains, rivers, fountains, castles, dragons... all of them are the protagonists of the stories that you will discover when you stay in them.
Sin duda nuestras habitaciones te ofrecerán esa tranquilidad y comodidad que necesitas para que descanses y disfrutes de tu estancia en una casa rural en Euskadi.
If you like any of them, check availability and reserve yours.
Reserve a room
Areano Rural Gallery
Get to know every corner of the farmhouse.
Call to
WhatsApp
This site is registered on
wpml.org
as a development site.